There is only one treat that my new health-concious palate still craves. You know how biting your nails isn't nearly as satisfying after you've given up the habit for Lent? Foods are the same way with me. My former undercover lover, the pop-tart, tastes sickly sweet and cardboard-y to me now. So for you who are still struggling with sugar addiction: There is a light at the end of the tunnel! Your tastebuds change and things like bell peppers become candy-sweet. Well, this phenomenon did not happen with one demonic sugar-laden substance–ice cream! It tastes just as good as I remember, and seriously does things to my brain so I just can't get enough. This poses a problem since my favorite vice consists of a wholesome blend of the following:
Milkfat and Nonfat Milk, Sugar, Corn Syrup, Whey, Mono and Diglycerides, Artificial Flavor, Guar Gum, Polysorbate 80, Carrageenan, and Vitamin A Palmitate.
There's some calcium in there with the nonfat milk, but that's about it in terms of nourishment. None of those other ingredients look too promising. Wonder what 19 years worth of this stuff does to you…

Fortunately, I have found a way to satisfy my ice-cream tooth (teeth?). The best part is that it takes minutes to whip up, with no strange ingredients or tools. Minimal effort for the pay-off, baby! With my low-carb ice cream bars, you have no excuse for caving to cravings and blowing $4.00 on toxic sludge for your body. You get the calcium from the cream and cream cheese (go organic if you can, at least on the cream!), the antioxidants from the chocolate, and the medium chain triglycerides from the coconut oil. Consume the Dilly bar's healthy cousin with gusto!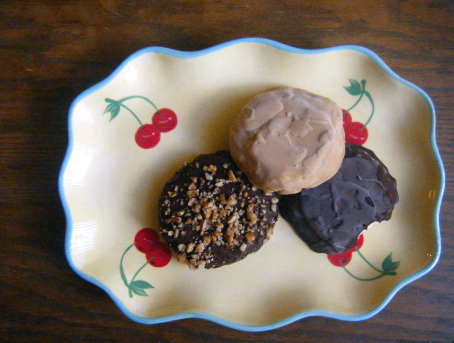 Easy Ice Cream Bars
Makes 4 bars

Ingredients:
Filling:
2 oz heavy cream (Organic Valley is deliciously thick!)
2 oz cream cheese
3 tablespoons of creamy peanut butter
2-4 tablespoons of sweetener
For ALL NATURAL sugar-free sweetening, use both of the following:
-1-2 tablespoons erythritol or xylitol
-1/8 teaspoon pure stevia extract

Chocolate Coating (for two bars):
1 tablespoon extra virgin coconut oil
2 squares Lindt extra dark 85% chocolate bar
Pinch of good-tasting pure stevia extract
chopped nuts (optional)
Peanut Butter Coating:
4 teaspoons creamy peanut butter
2 teaspoons coconut oil
sweetener, to taste
Preparation:
Beat heavy cream with a mixer until it forms stiff peaks. Do not over-beat or it will get clumpy and turn to butter! Set whipped cream aside. Beat cream cheese, sweetener, and peanut butter until the mixture is smooth and clump free. Test for sweetness. It should be a bit sweeter than you want the finished product. Using a spatula, fold cream cheese into the whipped cream until there are only a few white streaks. Shape ice cream rounds on a pan lined with parchment or waxed paper. Freeze for 1/2 hour.
Melt coating ingredients in the microwave in 10 second intervals, until liquified. Stir until smooth and add sweetener, to taste. Remove rounds from freezer and dip into coatings. You may need to set the round on the paper and spoon the coating over bare spots. Sprinkle bars with nuts immediately after dipping in the coating, if desired. Chill for another few minutes until the coating hardens.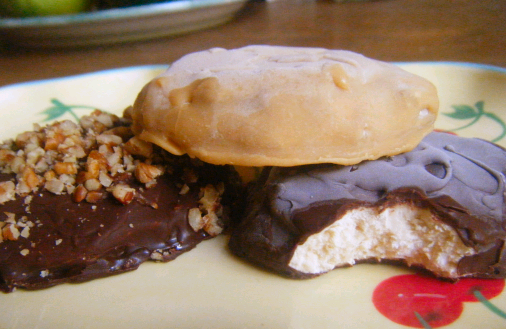 ~3g net carbs per treat!