I really like breakfast food, and in my previous unhealthy life, didn't always make time for a delicious and healthful breakfast. Me and Mickey D's, we go way back. During my crazy mornings senior year of high school, a quick stop at McDonald's took 5 minutes on a good day. You could chow down in your crappy space in the parking lot until the first bell rang, or just sneak the McMuffin in between your books if you had the cool teacher. They are unbelievably sturdy little buggers, and you ever notice how they don't even mold… but I digress. Ah, fond memories… until the GERD set in before 2nd period.
Fast forward to now, where I still get a hankering for a fast food-style breakfast sandwich every once in awhile. With my gluten-free low carb english muffin recipe, you can enjoy the McMuffin and the period after consumption! The only hard part of this operation is the bun. Make up a batch and keep 'em in the fridge for food emergencies. I like organic or imported cheddar (no rBGH!), free-range organic eggs, and uncured pork sausage. I cheated this time and bought the round little patties from a box (they photograph better, nyah nyah!), but you could snag a tube of organic pork and make 'em yourself! Finances permitting, I ususally go that route and cook up a giant batch at once. They keep in the freezer and reheat just the pre-cooked kind for breakfast in a pinch.
Now don't give me that look. Quit making excuses for running out the door with a donut clutched in your teeth. Instead of hitting the snooze button, get out of bed 10 minutes earlier to assemble this made over breakfast classic that will satisfy the convenience food junkie inside you.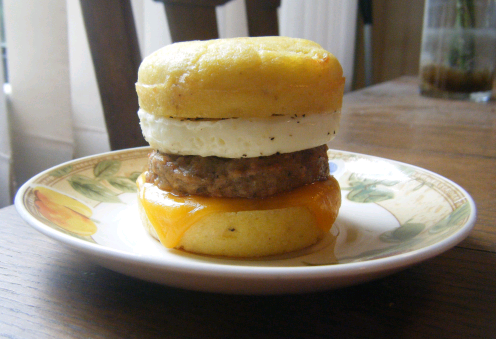 Made-over Breakfast Sandwich

English Muffins
adapted from a recipe by Bruce Fife, N.D.

Makes five muffins
Ingredients:
1/4 cup (half a stick) butter, melted
1/3 cup coconut flour (Bob's Red Mill preferred)
4 eggs
1/4 teaspoon sea salt
1/4 teaspoon black pepper
1/2 teaspoon garlic powder
1/4 teaspoon aluminum-free baking powder
1/2-3/4 cup sharp cheddar cheese, finely grated
Preparation:
Preheat oven to 400 degrees Fahrenheit.
Beat together eggs, butter, salt, pepper, and garlic powder. Add coconut flour and baking powder, whisking into the batter until there are no lumps. Stir in the cheese. Spoon batter into 5 buttered ramekins. Bake for 15 minutes or until firm. Let cool completely before cutting into. For best results, make these the night before you plan on eating them. Store in the fridge.
~4g net carbs per muffin
—
Sandwich Assembly Instructions:
Slice muffin in half and toast until heated through. Top one half with slice of cheddar cheese. Reheat sausage per package directions and place on top of cheese. Cook egg in a buttered ramekin or other circular muffin-sized microwaveable dish, covered in plastic wrap, on 50% power for 1 minutes 15 seconds, or until yolk is firm (remember to poke a hole in the yolk before cooking!). Slide egg out carefully. Sprinkle on sea salt and pepper to taste. Place the egg on top of the sausage and top with other muffin half. Consume immediately, or wrap in a napkin and get going!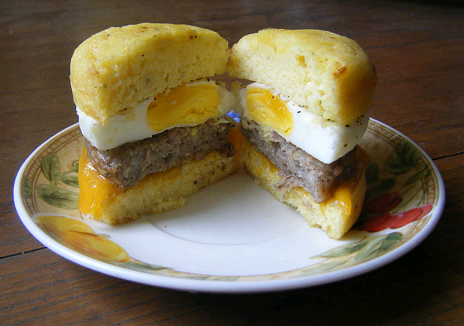 ~5g net carbs
—
Don't have the time or the will to press buttons and get multiple items out of the fridge? Make a sweet variation of the muffins for spreads that don't play well with garlic!
Sweet Variation of Breakfast Muffins:
1/4 cup (half a stick) butter, melted
1/3 cup coconut flour
4 eggs
1 teaspoon pure vanilla extract
1/8 teaspoon sea salt
1/4 teaspoon aluminum-free baking powder
1/2-3/4 cup mozzarella cheese, finely grated
Throw some peanut butter on your sweet buns, or better yet, bust out PB's healthier twin sister– almond butter! AB is packed full of monounsaturated fats and flavor, with a distinct natural sweetness. For these reasons, no jar of almond butter lasts long enough to actually put it on something in my house.