I always felt sorry for those ladies in the mall food court, standing around heckling innocent mall goers to try their chicken on a toothpick. Every time I walk through the entrance by Panda Express I take a sample nodding and smiling, guilted into heading over to the counter to ask about the $4.99 special. Although it tastes exactly the same everywhere I tried it, this Chinese restaurant staple of questionable cultural authenticity is totally addictive, and it's not just the MSG. It's sweet with hint of caramel flavor from the bourbon.
I googled many combinations of "mall bourbon chicken" to find an ingredients list for the commercial dish, to no avail. A few recipes purporting to taste like the food court fare popped up, so I took the plunge and pieced together a test recipe. After tasting the results, I proceeded to eat way too much chicken and toyed with the idea of keeping this magical formula for chicken nirvana to myself. Good thing for you, I never was good at keeping secrets. This recipe really does taste like the stuff you get in the mall. Just keep it on the dl, please. Those ladies with the samples have to make a living, too!
This meal is pretty budget friendly considering a lot of the ingredients are components of a well stocked pantry. Target has the best deal for organic chicken in my area (Coleman brand), which you definitely want to spring for. Macadamia nut oil is a wonderful investment because of its health benefits and delicious nutty flavoring that's not overpowering in most applications. It has a high smoke point for high heat cooking, and beats olive oil in the amount of monounsaturated fats. Coconut oil would also work nicely. Peanut oil would taste fine, but is not the healthiest option since it's highly polyunsaturated. Extra light virgin olive oil would be a last resort, as it wouldn't complement the other flavor components. If you don't have a lot of the key items, you can stock up with this recipe and make fake Chinese take out to your heart's content.
The recipe makes three large servings, but you'd best divide it up in advance because it's hard to stop with this stuff. You don't have to feel guilty if you overindulge a bit, though. No sugar, no gluten, no transfats or polyunsaturated oils, nothing artificial. The best part is you would never know that if I hadn't told you.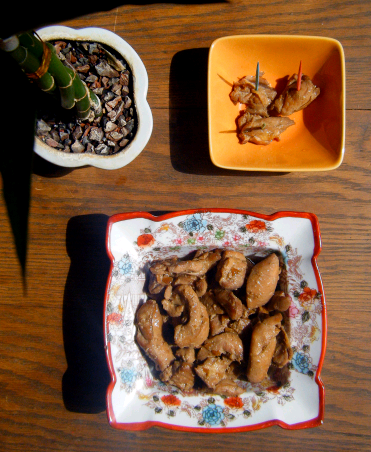 Made-over Mall Food Court Bourbon Chicken
Makes 3 large servings
Ingredients:
1 1/2 pounds of organic chicken thigh meat, cubed
2 tablespoons of oil (see note above)
1/4 cup soy or wheat-free tamari sauce
2 tablespoons of rice vinegar
2 tablespoons bourbon whiskey
2-4 tablespoons sweetener
1/4 cup Truvia OR erythritol OR xylitol
1/8 teaspoon pure stevia powder

(if not using Truvia)
1/2 teaspoon blackstrap molasses
1T diced yellow onion, or 1 green onion, chopped
1/8 teaspoon ginger
2 cloves of garlic, finely minced
sea salt, to taste
Preparation:
Combine all of the marinade ingredients and whisk together. Taste and add more sea salt or sweetener if necessary. Toss chicken thigh chunks in marinade, then place chicken and marinade into a zip top bag and leave in the refrigerator for at least four hours, or overnight, turning occasionally to expose all of the chicken evenly.
Set oven to 350 degrees Fahrenheit and pour chicken and marinade into a baking dish. Bake for 45 minutes, turning pieces over and moving them around in the marinade during the baking process. Serve hot from the oven and refrigerate leftovers immediately.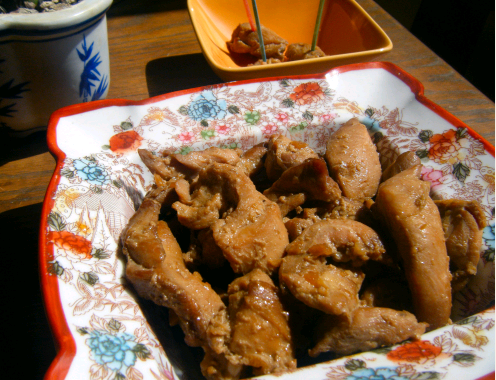 ~2g net carbs per serving!