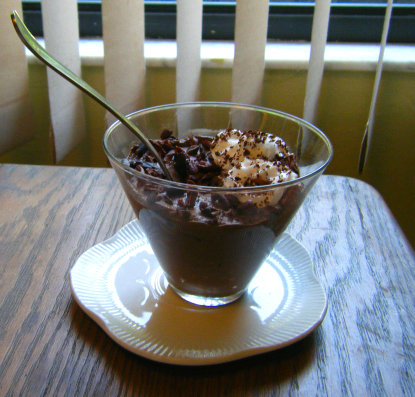 Okay, let's start simple. No cooking required with this one!
Being a chick, chocolate makes everything better. No really, it does. This is why I try to incorporate it into as many meals as possible, and was perfectly content, in the throes of my sugar addiction, replacing real food with vending machine fare. There is something about chocolate that goes straight your head and makes problems magically disappear while you're licking the melty stuff off the Snickers wrapper. Problem is, the after effects of processed candy can kill the mood. The good news is, dark chocolate contains potent antioxidants exceeding the levels found in red wine (<– not a good breakfast option). The nibs are raw, unprocessed cacao with. Additionally, the saturated fat in cocoa is found to boost good cholesterol levels. Scientific debate aside, it just tastes so darn good!
Paired all of that goodness with yogurt, which provides 15% of your RDA of calcium along with 14g of protein, not to mention the probiotic boost courtesy of the friendly bacterial strains that give yogurt its delectable tang. You wanna get sick less and possibly live longer? You wanna burn fat and keep your hip bones intact when you're 80? Eat up! It's kinda crazy how many health benefits are associated with this stuff. With only 11g net carbs, you won't feel a bit of remorse indulging in what looks (and tastes… promise!) like dessert for breakfast.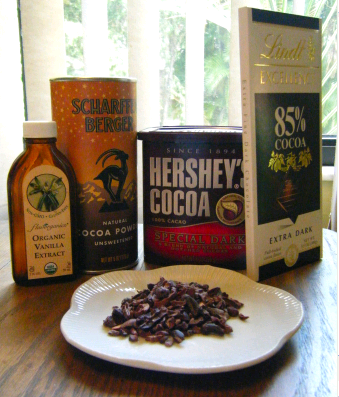 from left: flavorganics sugar-free vanilla extract, scharffenberger unsweetened cocoa powder, hershey's special dark cocoa powder, lindt 85% cacao extra dark chocolate bar, raw cacao nibs

Triple Chocolate Yogurt Parfait
1 7 oz container strained greek-style yogurt (I love FAGE total!)
1-2 tablespoons of unsweetened cocoa powder
2 squares of 85% cacao extra dark chocolate (I like Lindt or Ghirardelli)
sweeteners, to taste
–stevia
-erythritol
splash of pure vanilla extract
cacao nibs
sugar-free whipped cream (optional)
grated chocolate (optional)
Stir cocoa powder into yogurt until thoroughly combined. Melt squares of dark chocolate until liquified in microwave, watching carefully to avoid burning. I like to do this in 10 seconds increments, stirring every time. When chocolate is melted, stir it quickly into a couple of spoonfuls of the yogurt. Add it back into the rest of the yogurt and combine until streaks of chocolate are no longer visibile. Add sweeteners and vanilla extract, tasting and adjusting accordingly. Layer with cacao nibs so you get some crunch with every bite, or just sprinkle the nibs over the top. Garnish with whipped cream and more grated chocolate (use a cheese grater or zester).
Note the spoon standing up in the yogurt. It really is that luxuriously thick!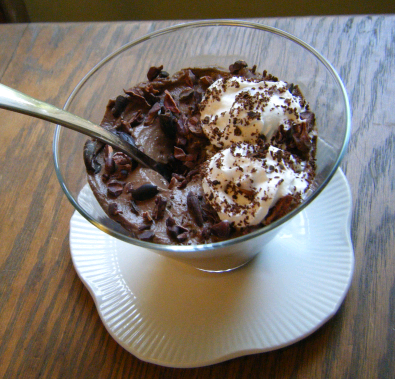 ~11g net carbs per massive sundae