Walking down the cereal aisle as a kid, I always looked longingly at the sugar-coated puffs and multicolored flakes made out of who-knows-what. The cartoon characters called to me from commercials, shilling cookies and rice crispy treats for breakfast. What kid doesn't want a bowlful of dessert in place of those boring bran flakes her parents choke down? My mother rarely indulged my fantasies, but that didn't mean I went without. Every chance I got to try one of those mythical products at a friends house, I did, filling up the bowl again and again until the milk was used up. The coolest part was the milk turning chocolately brown, or pink and fruity. Oh, to be so young and carefree…
If your kids are coo-coo for sugar cereals, or if you're feeling nostalgic, OR if you just really like chocolate, try this super simple grain-free granola cereal made with real cocoa and a blend of nutrient-rich nuts and seeds. It provides you with a healthy dose of antioxidants, medium-chain saturated fats from the coconut oil, and polyphenols from the cocoa. You'll be satisfied after one serving**, full for hours, and your teeth won't feel like jumping out of your head when you're finished!
I always have a bunch of different bags of munchies from the bulk bins at my local health food store stashed in the freezer. This recipe is so versatile that you can change up the nuts and seeds depending on what you have on hand. Just remember that nuts and seeds vary in carb counts, so adjust the proportions of different ingredients to your dietary needs.
Serve with unsweetened vanilla almond milk to maximize indulgence factor.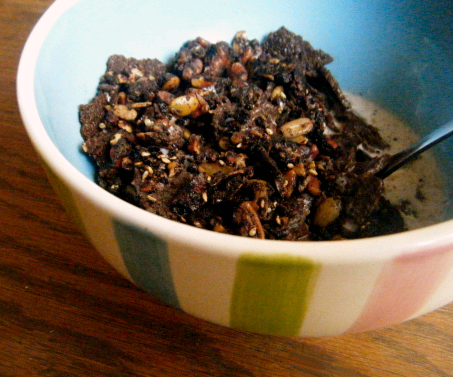 **DISCLAIMER: This stuff is dangerously good. Portion control with baggies and half recipes if necessary!

Chocolatey Granola Cereal

Ingredients:
For Granola:

Makes 2 heaping cups
1/4 cup unsalted butter or coconut oil
1/4 cup cocoa powder (don't get Dutch-processed for maximum nutritional punch)
2 tablespoons pure vanilla extract
sweeteners, to taste
For ALL NATURAL sugar-free sweetening:
-3 tablespoons erythritol or xylitol
-1/2 teaspoon blackstrap molasses (optional)
-1/4 teaspoon pure stevia extract)
1/8 teaspoon sea salt
4 squares of lindt 85% chocolate, melted (optional)
1 tablespoon flax meal
1 tablespoon sesame seeds
2 tablespoons nut meal (almond, pecan, whatever you like)
1/4 cup cacao nibs
1/4 cup pepitas (pumpkin seeds)
1/4 cup sunflower seeds
1/4 cup unsweetened coconut, shredded
1/2 cup sliced almonds
1/2 cup pecans, chopped
For Cereal Flakes:
Makes about one cup
1/2 cup nut meal (pecan, almond, etc.)
2 tablespoons flax meal
2 tablespoons unsweetened cocoa powder
sweetener, to taste (I used 1/8 teaspoon NuNaturals stevia)
1 egg white
Preparation:
For Granola:
Preheat oven to 300 degrees Fahrenheit.
Melt coconut oil or butter and chocolate squares (if using) in a small bowl in microwave until liquified. Stir in cocoa powder until smooth, with no lumps. Powder erythritol in a coffee grinder or blender. Whisk vanilla extract, erythritol, blackstrap molasses, additional sweeteners, and sea salt into coconut oil mixture. Mix dry ingredients together and stir in wet ingredients, using your hands to coat the nut and seed blend. Spread mixture over a parchment paper-lined baking pan. Bake for 55 minutes, stirring the mixture around occasionally. Remove from oven and spread over a paper towel set on a baking rack. It will continue to crisp up as the moisture evaporates.

For Flakes:
Mix together ingredients and roll in between pieces of parchment paper until very thin. Microwave on a piece of parchment paper, 50% power, for two minutes, stopping every 20 seconds to blot off oil. Let it dry out on a paper towel placed on a baking rack, then break up into flakes. To get them more crisp, stick 'em in the oven with the granola for a few minutes.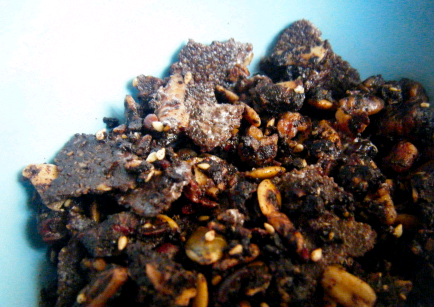 ~8g net carbs per 1/2 cup serving
Tips:
~For richer granola, use the chocolate squares! It's pretty great without them, too.
~The sesame seeds at a very distinct, addictive flavor to this. It won't be the same without 'em, so get some!
~For more "clumpy" granola, use a couple of egg whites with the wet ingredients. I don't mind my granola in small pieces, so I don't waste the eggs on it.
~For cinnamon-nut granola, use cinnamon in place of the cocoa powder, and omit the cacao nibs. You could also replace the coconut flakes with more nuts, and use almond extract in place of vanilla.