Wendy's has always had a special place in my heart. It was my preferred stop after soccer practice, with the same request every time: "Chicken nuggets with sweet and sour and chili aaand-an-a small frosty!!" I've conquered the nuggets and frosty (to be addressed in the near future), but the chili has always been on my proverbial back burner. It's just not something I missed while low carbing initially, because you can have all the ground beef and tomatoes you want, not to mention sour cream and cheese and all those indulgent scene-stealers. The humble chili never called my name… until yesterday morning at oh-ninehundred hours. I sifted through recipes that were inherently low carb, i.e. Texas and Skyline chili, but those didn't look like they would satisfy my nostalgic craving. I needed something simple. And something tried-and-true so I wouldn't waste my expensive grass-fed beef. Gotta be pragmatic here. So I turned to AllRecipes.com, a virtual treasure trove of culinary inspiration (with user ratings!). With my tweaks to knock down the carbs and punch up the flavor, you have no reason to let me catch you shoveling it down from the yellow cup.
Waaaaay better than fast food, it's homemade chili! You can leave out the beans for a lower carb count, but they're worth it for a more "authentic" taste. I would make this every night if it didn't take so dang long to cook! This dish is seriously nutrient rich. It's chock full of lycophene from the tomatoes, which is absorbed better with the addition of the healthful fat from the grass-fed beef.
Check out this excerpt from a study on lycophene absorption:
"Tomato products consumed in oil, such as pizza (7.5 g fat per serving), spaghetti/tomato sauce (14.6 g), and lasagna (23.8 g), are particularly bioavailable lycopene sources, due to greater intestinal absorption in association with fat."
Grass-fed beef also brings high levels of conjugated linoleic acid and omega-3 fatty acids to the game. The capsaicin in chili is purported to have myriad healing properties. Did I mention it's super easy? Insanely easy. All you need is a knife, a big pot, and opposable thumbs.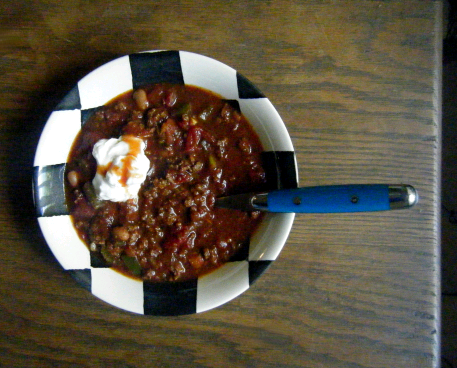 Easy Better-Than-Wendy's Chili

Makes 8 small servings
Ingredients:
1 pound grass-fed ground beef
1 tablespoon oil (olive or coconut)
2-14.5 oz cans organic tomatoes (I like Muir Glen fire-roasted)
1-8 oz can organic tomato sauce
1/2 cup chopped yellow onion
1/4 cup chopped organic celery
3/4 cup chopped organic green bell pepper
3 tablespoons chili powder
2 teaspoons ground cumin
3 cloves of garlic, crushed
3/4 teaspoon sea salt
1/4 teaspoon ground black pepper
1/4 teaspoon dried oregano
1/4 teaspoon blackstrap molasses (optional, for flavor)
1/8 teaspoon cayenne pepper
1/2 cup pinto beans or kidney beans, drained and rinsed
hot sauce, to taste
Preparation:
Chop vegetables and set aside. In a large kettle with a lid, brown ground beef in a little coconut oil over medium heat, stirring around and breaking up the chunks. DO NOT DRAIN THE FAT. I repeat, do NOT drain off the beef fat. S'good for you, and for your flavor-hungry chili! Add vegetables and sweat for a few minutes until softened. Stir in canned tomatoes, tomato sauce, beans, and spices. Simmer for 2-3 hours, stirring occasionally. Do not touch until the end of that period. You want the veggies to be tender and the flavors to meld.
Top with sour cream, Frank's RedHot, cheese, whatever chili topping you like since it's probably low carb. Except fritos. No corn chips should ever touch this bowl of manna!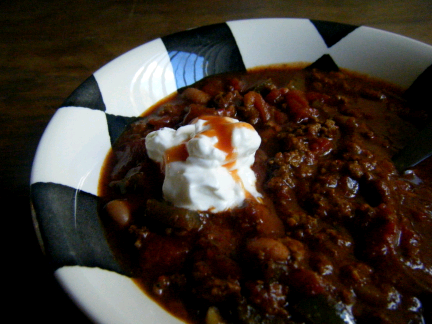 ~11g net carbs (with the beans)