After much tweaking and experimentation, here's a vanilla version of my Easy Ice Cream Bars. The texture isn't as smooth as it is with the peanut butter, so you should let 'em sit out for a moment before taking a bite. The yogurt brings a pleasant tang to the party.
Let's take a moment to talk about the miraculous calorie-free naturally occurring sweetener: Erythritol! Erythritol is totally safe and has no aftertaste or unpleasant side effects like the other sugar alcohols. It has 70% of the sweetening power of sugar, with many of the properties that sugar imparts in baking (structure, mouthfeel, etc.) The one caveat: the "cooling" effect you can taste when erythritol re-crystallizes. It's the weirdest sensation. You have to figure out a way to make the majority of erythritol present in the recipe stay dissolved so you can avoid that effect. I'm still tinkering around with it in recipes, but it's slow-going because erythritol is precious stuff and I'm on a student budget. Z-sweet is the brand available locally. You pay a premium for buying it in stores, but it is worth the cost if you're looking for a product not produced with genetically modified corn. I've been ordering 5 lb bags of erythritol online lately because I go through it so quickly. The best price I've found for it is at iherb.com, and online supplement retailer. No, erythritol is not something that cavemen would've consumed while foraging for food, but it does not wreak havoc on your body like sugar does. My justification for using it is that it was impossible to consume concentrated amounts of any form of sugar while living off the land, making erythritol the more "natural" way of eating than using, say, honey or maple syrup. We were not able to eat any refined sweeteners or copious amounts of fruit on a regular basis before the advent of agriculture, so it makes sense that our bodies are not designed to handle the 300+ carb per day diet that is standard now. Did you know that bears are the only animal in the wild showing signs of tooth decay?
The one I chomped into (shown on the left, obviously) is filled with a layer of mooshed up Sugar-Free Brownies. Yum!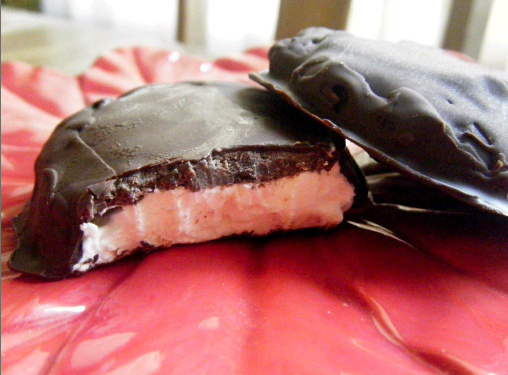 Easy Ice Cream Bars (Vanilla version)
Makes 6 small rounds

Ingredients:
Filling:
2 oz heavy cream, preferably organic
2 oz cream cheese
3 Tablespoons of ricotta cheese or strained greek-style yogurt
2 Tablespoons of erythritol (or 1.5 Tablespoons xylitol)
A pinch of pure stevia extract
1/4 teaspoon pure vanilla extract

Chocolate Coating:
1 Tablespoon unrefined coconut oil
2 squares Lindt extra dark 85% chocolate bar (or Ghirardelli 86% chocolate bar)
A pinch of pure stevia extract
Chopped nuts (optional)

Peanut Butter Coating:
4 teaspoons creamy peanut butter
2 teaspoons unrefined coconut oil or non-hydrogenated shortening
A pinch of pure stevia extract

Preparation:
Beat heavy cream with a mixer until it forms stiff peaks. Do not over beat or it will get clumpy, and turn to butter! Set whipped cream aside. Measure out granular erythritol or xylitol and powder in a coffee grinder or blender. Beat cream cheese, yogurt, erythritol, sweetener, and vanilla extract until the mixture is smooth and clump free. Test for sweetness. It should be a bit sweeter than you want the finished product. Using a spatula, fold cream cheese into the whipped cream until well combined. Shape ice cream rounds on a pan lined with parchment or waxed paper. Freeze for 1 hour or until firm.
Melt coating ingredients in the microwave in 10 second intervals, until liquified. Stir until smooth and add sweetener, to taste. Remove rounds from freezer and dip into coatings, or top with a layer of mushed up brownie/cookie dough/etc before dipping. You may need to set the round on the paper and spoon the coating over bare spots. Sprinkle bars with nuts immediately after dipping in the coating, if desired. Chill for another few minutes until the coating hardens.
So stuffed from all of this experimenting in the kitchen! Goodness, healthy eating is so trying. I've gotta go dump these off on my friends asap. For some reason, I don't think they'll mind.