I'm interrupting the series on peanut butter to fulfill a sudden craving. Yesterday I was trying to figure out what to do with some chayotes I found at the farmer's market which have been sitting in my fruit bowl for a month. Considering their use as an apple substitute in low-carb cooking, I went over the possibilities. Fried cinnamon "apples," stuffed "apples," "apple" muffins… nah. And then it hit me. I saw visions of steaming casserole dishes full of fragrant, crumbly apple crisp. The red box with the ready-made topping mixture stands out in my memory, as does the extensive peeling over the sink required to reap the rewards. Labor intensive, but so worth it. I had to recapture the magic of this childhood favorite sans the sugar so it wouldn't leave me furtively cleaning out half the tupperware container at midnight, Redi-whip can in hand.
Instead of replacing all the apples to cut down the amount of fructose sugar, I let a couple of big, juicy organic apples work their magic with some thinly sliced chayotes. These ugly green squashes are pretty nondescript in flavor, and have the perfect texture after some heavy duty steaming to play well with the sweeter, softer apples. The chayotes will suck up all the apple-y goodess in the marinating and cooking process, leaving anyone who tastes this dish blissfully unaware of their presence. Flour and brown sugar are usually the main ingredients in the crunchy topping, but nuts and a touch of blackstrap molasses work just as well, with a ton more flavor. With this sugar- and gluten-free apple crisp, you get all of the health benefits of apples with none of the blood sugar spike and fat storing insulin response. The phytochemicals in apples may promote lung health, protect against cancer, and prevent cardiovascular disease. Okay, need any more reasons to eat apple crisp?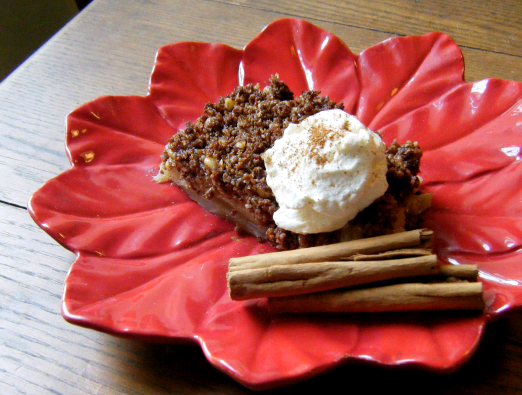 Nutty Apple Crisp
Makes 10-12 servings
Ingredients:
2 medium-sized apples, thinly sliced (1/4″ thick)
2 chayotes, thinly sliced
1/4 cup organic lemon juice
2 tablespoons water
Sweeteners
For ALL NATURAL sweetening, use all three of the following:
-6 tablespoons erythritol
–Pure stevia extract, to taste
-1/2 teaspoon blackstrap molasses
1 cup nut meal (almond, pecan, hazelnut, etc.)
1/2 cup chopped nuts (I like pecans and walnuts)
1 tablespoon flax meal
1 tablespoon oat flour (optional)
2-3 teaspoons cinnamon
1/2 teaspoon nutmeg
1 teaspoon pure vanilla extract
1/4 cup butter
1/4 teaspoon xanthan or guar gum (optional, firms up the filling)
Preparation:
Peel and slice apples and chayotes, tossing apples in a bowl with 2 tablespoons lemon juice and placing chayotes in a microwave safe dish. Add the other 2 tablespoons of lemon juice, water, and 3 tablespoons of the erythritol to the chayotes, stirring the squash around to coat. Microwave for 12-14 minutes on high or until fork tender, stirring half way through the cooking process. Remove from microwave and let cool. Taste and add additional sweeteners to the chayotes if necessary. You want them to be as sweet as the apples.
Preheat oven to 375 degrees Fahrenheit.
Mix dry ingredients in a bowl. Melt butter in the microwave until liquified. Whisk in erythritol, blackstrap molasses, and vanilla extract. Mix with dry ingredients until crumbly. Taste and add additional sweetener to the topping if necessary. Add chayotes to bowl of apples and fold in xanthan gum thoroughly. Butter a baking dish, and fill it with layered chayote and apple slices. Sprinkle with crumb topping. Bake uncovered for 30-40 minutes, or until crisp is bubbly and browned. Crisp the top under the broiler setting for a few minutes if necessary. Let cool for 10 minutes. This is best eaten fresh, so make a small batch if you have to!
~5.5 grams net carbs per serving
Serve with fresh whipped cream and garnish with cinnamon sticks (50 cents in the Mexican aisle!) for a classy touch.